Family Road Trips from New York City – With its renowned museums, parks, and attractions, New York City offers endless entertainment for families right in its own backyard. But sometimes the concrete jungle can start to feel a bit claustrophobic. Load up the minivan and hit the open road for an unforgettable family adventure!
Just a few hours' drive from NYC lie diverse destinations filled with fun activities the whole family will love. From touring historic sites to riding rollercoasters and splashing in waterparks, these road trips allow you to bond over new experiences beyond the big city. Stop at quirky roadside attractions along the way and enjoy quality time together as you navigate new places.
This list of the best family road trips from NYC has something for every family's interests. Learn about America's birth in Philadelphia, explore natural wonders at Niagara Falls, or relax beachside in Virginia. Or stay closer to home with trips to New England and the Jersey Shore. Each destination offers family accommodations sure to please kids while letting parents enjoy themselves too.
Pack up snacks, toys, and tunes to keep everyone happy on the drive. Make stops to burn off energy and create lasting memories. An open road filled with new sights awaits your family. So choose your favorite road trip destination and let the family bonding begin!
7. Boston
Want to show your kids American history coming to life? Load up the car and take a family road trip from New York City to Boston! This guide covers everything you need to know to plan an epic adventure the whole family will love.
Why Take a Family Road Trip to Boston?
Boston is one of the best family-friendly destinations on the East Coast. Here's why it makes for an epic road trip:
Interactive History Lessons – Walk the Freedom Trail to see where America began firsthand.
World-Class Museums – From science to sea creatures, museums spark kids' curiosity and interests.
Kid-Focused Activities – Duck boat tours, Fenway Park, and hands-on exhibits keep young ones engaged.
Family Dining – From clam chowder to cannoli's, sample Boston's family-fun food scene.
Easy Drivable Distance – Under 5 hours from NYC makes for a manageable road trip.
Top Things to Do in Boston with Kids
Historic Sites
Freedom Trail – Walk to 16 sites including Paul Revere's house and Bunker Hill.
Old North Church – See where the famous "one if by land, two if by sea" signal was hung.
U.S.S. Constitution – Tour the world's oldest commissioned naval vessel still afloat.
Museums
Read Also: 7 BEAUTIFUL NEW YORK ISLANDS TO ESCAPE THE CONCRETE JUNGLE
Tours & Activities
Fenway Park Tour – America's oldest MLB ballpark is a must for baseball fans young and old.
Duck Boat Tours – Quack along the Charles River and through the city on these fun amphibious boats.
Make Way for Ducklings Story Walk – Follow bronze duck statues retelling this classic children's tale.
Family-Fun Lodging Options
Residence Inn Boston Cambridge – Spacious suites with kitchens, free breakfast, and an indoor pool.
Hilton Boston Logan Airport – Attached to the airport terminal with plane spotting views, perfect for late arrivals or early departures.
Airbnb – Find apartment rentals and guest houses with family amenities like playrooms.
With interactive sights, kids' menus galore, and family-sized hotel suites, Boston is the perfect history-filled family getaway from NYC!
6. Philadelphia and Baltimore
Experience American history and family fun by taking a road trip from New York City to Philadelphia and Baltimore. Your kids will have a blast at the interactive museums and attractions!
Why Take a Family Road Trip to Philly & Baltimore?
This East Coast destination duo offers:
Monuments to Freedom – See the Liberty Bell and Constitution come to life.
Educational Museums – From science to aerospace, engaging exhibits spark curiosity.
Kid-Focused Activities – Magic shows, 4D movies, and more entertain young ones.
Family Dining & Desserts – Philly cheesesteaks, Maryland crabs, and Hershey's chocolate world!
Drivable Weekend Trip – Under 3.5 hour drive makes it an easy getaway.
Read Also: 10 SECRET AIRPORT HACKS REVEALED BY FREQUENT FLYERS
Top Things to Do in Philadelphia with Kids
Historic Sites
Independence Hall – Step into the room where the Declaration of Independence was signed.
Liberty Bell – Let kids ring the bell replica and learn about this powerful symbol of freedom.
Betsy Ross House – See where the first American flag was sewn in this 1740s home.
Museums
Franklin Institute – Hands-on science exhibits like giant walk-through heart and space simulator.
Museum of the American Revolution – Get immersed in the Revolutionary War through interactive displays and recreated battles.
Philadelphia Zoo – Ride a camel, hang with gorillas, and watch zebras graze at America's first zoo.
Top Things to Do in Baltimore with Kids
Attractions
National Aquarium – Enter an aquatic world with 16,000+ creatures in habitats like a tropical rainforest and open ocean.
Maryland Science Center – 3 floors of fascination including dinosaurs, space, and an indoor kinetic sculpture raceway.
Port Discovery Children's Museum – Playful hands-on exhibits encourage creativity and building skills.
B&O Railroad Museum – Climb real locomotives and experience railway history through engaging exhibits.
Activities
Inner Harbor – Paddle boat rides, merry-go-round spin, and crab cake dinner by the waterfront.
Oriole Park at Camden Yards – Catch an O's baseball game at this family-friendly stadium with Boog's BBQ.
With patriotic sites and kid-pleasing destinations, Philly and Baltimore make for an unforgettable East Coast family road trip!
5. Niagara Falls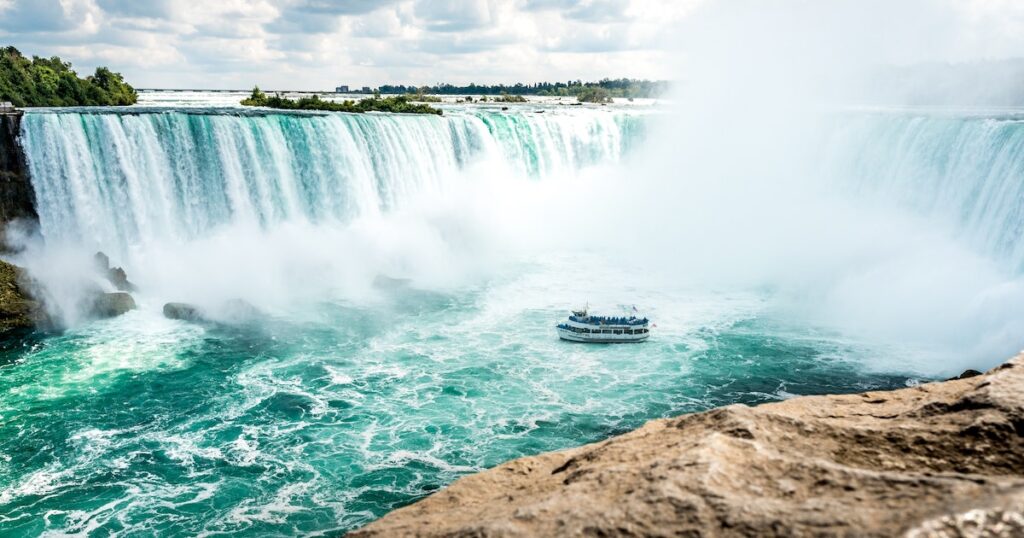 Ready for family bonding at one of the world's greatest natural wonders? Take an unforgettable road trip from NYC to Niagara Falls! From soaking in waterfall views to thrilling boat tours, this guide will help you plan it all.
Why Take a Family Road Trip to Niagara Falls?
Niagara Falls offers nonstop family fun with:
Iconic Waterfall Vistas – Feel the power and mist as millions of gallons rush over the falls.
Exciting Boat Tours – Get drenched riding close to the falls on the Maid of the Mist.
Nearby Kid Attractions – Museums, waterparks, and an NHL arena enhance the experience.
Nature Parks & Trails – Explore the falls area on scenic hikes and bike rides.
Manageable Drive – Under 8 hours from NYC makes it a doable family road trip.
Read Also: 25 ROMANTIC THINGS TO DO FOR COUPLES IN NEW ORLEANS
Top Things to Do at Niagara Falls with Kids
Falls Experiences
Cave of the Winds – Don a poncho and walk right up to the Bridal Veil Falls on wooden decks.
Maid of the Mist Boat Tour – Cruise to the base of Horseshoe Falls – prepare to get wet!
Niagara Falls State Park – Hike trails along the upper rapids and see the falls from above.
Nearby Attractions
Area Activities
Helicopter Tours – Soar over the falls for a breathtaking aerial view.
Jet Boat Rides – Hold on tight as these high-powered boats zip through the rapids.
Niagara Gorge Trail – Take scenic nature hikes down into the lower Niagara gorge.
With incredible waterfall views and endless attractions, a family road trip to Niagara Falls promises action, scenery, and forever memories!
4. the Jersey Shore
Trade the concrete jungle for beach trips and boardwalk rides with a family road trip from NYC to the Jersey Shore! This guide covers everything you need to plan an unforgettable shore vacation.
Why Take a Family Road Trip to the Jersey Shore?
The Jersey Shore offers:
Iconic Boardwalks – Play arcade games, grab pizza, and stroll oceanside on lively boardwalks.
Beach Time Fun – Build sandcastles, splash in the waves, and hunt for seashells along the shore.
Amusement Parks – Ride rollercoasters and eat funnel cake at amusement piers.
Kid-Friendly Resorts – Many hotels offer kids clubs, games, contests and waterparks.
Quick Drive from NYC – Under 3 hours puts you at the shore in no time.
Top Family Activities at the Jersey Shore
Beaches & Boardwalks
Point Pleasant Beach – Ride rollercoasters at Jenkinson's Boardwalk and relax on the wide sandy beach.
Wildwood – Play skeeball, see the nightly Sightseer Tram light show, and dip your toes in the ocean.
Ocean City – Pedal a surrey bike on the boardwalk, swim in clear waters, and grab crab fries.
Read Also: 15 HELPFUL TRAVEL TIPS FOR RUGBY WORLD CUP FRANCE 2023
Waterparks & Aquariums
Morey's Piers – Massive waterparks with huge slides, wave pools, and kiddie areas.
Atlantic City Aquarium – Spot sharks, sea turtles, penguins and more up close.
Storybook Land – Ride through childhood nursery rhymes and fairytales at this cute miniature theme park.
Kid-Friendly Resorts
The Grand Hotel Cape May – Victorian elegance on the beach with bike rentals, crafts, and kids' evening entertainment.
Ocean Place Resort – Luxurious rooms plus an indoor pool with a pirate ship and waterslide.
Sanctuary Hotel – Family suites with bunk beds, game consoles, and easy boardwalk access.
With beaches, amusement parks, great hotels, and family dining, the Jersey Shore is road trip nirvana for NYC kids!
3. the Poconos
Looking for outdoor adventure in nature's playground? Take an active family road trip from NYC to the Pocono Mountains of Pennsylvania! This guide will get you started planning your mountain getaway.
Why Take a Family Road Trip to the Poconos?
The Pocono Mountains offer:
Thrilling Outdoor Activities – From hiking to whitewater rafting, the options for adventure are endless.
Kid-Friendly Attractions – Waterparks, theme parks, and family resorts promise fun for all ages.
Scenic Natural Beauty – Take in lush forests, mountains, and waterfalls throughout the area.
Variety of Lodging – Choose from resorts, camping, vacation rentals, and more.
Short Drive from NYC – Less than 2 hours puts you right in the Poconos.
Read Also: 12 FALL ADVENTURE TRAVEL TIPS FOR MOMS
Top Things to Do in the Poconos with Kids
Whitewater rafting – Ride the rapids as a family on the Lehigh or Delaware Rivers.
Zip lining – Soar over forests and rivers for an adrenaline rush.
Downhill skiing – Hit the slopes on beginner-friendly runs at resorts like Camelback.
Outdoor Activities
Amusement Parks & Waterparks
Camelbeach – PA's largest waterpark with 35 slides and rides including dueling rocket racer slides.
Great Wolf Lodge – Massive indoor waterpark with water slides, wave pools, a lazy river, and more wet fun.
Knoebels Amusement Park – Enjoy classic rides, mini golf, and free entertainment at this value-packed park.
Sightseeing & Activities
Jim Thorpe train rides – Take in mountain scenery on an old-fashioned train ride.
Hiking at state parks – Hit scenic trails at Big Pocono, Hickory Run, and Lehigh Gorge State Parks.
Horseback riding – Ride horses through mountain trails and valleys.
With incredible outdoor recreation, attractions for kids of all ages, scenic nature, and resort amenities, the Poconos promises an unforgettable active family getaway!
2. Washington D.C. & Virginia Beach
See American icons in D.C. then relax beachside in Virginia on this epic East Coast road trip from NYC! With educational experiences and seaside fun, the whole family will make memories.
Why Take a Family Road Trip to D.C. & Virginia Beach?
This duo offers:
Iconic National Monuments – See the Lincoln Memorial, White House, and Smithsonian museums.
Virginia Beach – Swim, shrimp, and stroll the lively boardwalk of Virginia's classic beach town.
Kid-Focused Activities – Museums, memorials, and attractions specifically appeal to young ones.
Family Dining – Feast on BBQ, fresh seafood, crab cakes, and more!
Drivable Weekend Trip – Under 6 hours of driving makes it an easy getaway from NYC.
Read Also: 12 IN-DEMAND BUSINESS JOBS THAT INVOLVE TRAVELING
Top Things to Do in Washington D.C. with Kids
Monuments & Memorials
National Mall – See the Washington Monument, World War II Memorial, Lincoln Memorial and more. Don't miss the outdoor Smithsonian carousel!
Arlington National Cemetery – See the Changing of the Guard ceremony at the Tomb of the Unknown Soldier.
U.S. Capitol Building – Take a guided tour of the iconic Capitol, home to Congress.
Museums
Top Things to Do in Virginia Beach with Kids
Beach Time Fun
Boardwalk – Play carnival games, ride rollercoasters, grab ice cream, and take in live concerts and shows along this lively oceanfront boardwalk.
Virginia Aquarium – Get up close with 800+ aquatic animals and walk through an aviary of free-flying birds.
First Landing State Park – Bike, hike, canoe, or kayak on 19 miles of scenic trails and waterways.
Family Resorts
Great Wolf Lodge – Massive indoor waterpark with slides for all ages and interactive games.
Hilton Virginia Beach Oceanfront – Kid-friendly hotel with outdoor pools, beach access, and activity programs.
With patriotic sites, incredible museums, beach time bliss, and family resort amenities, this two-stop road trip is an East Coast dream!
1. Mystic, CT
Find seaside serenity with a road trip from NYC to Mystic, Connecticut! From maritime history to beaches and amusement rides, this charming New England town offers laidback fun the whole family will love.
Why Take a Family Road Trip to Mystic?
Mystic offers:
Interactive Maritime Exhibits – Explore life at sea firsthand at Mystic Seaport Museum and Aquarium.
Family Dining – Feast on classic New England fare like lobster rolls, clam chowder, and fried clams.
Nearby Beach Towns – Stay along the shore in relaxed beach towns like Westerly and Watch Hill.
Amusement & Water Park – Ride coasters and cool off at lakeside Quassy Amusement Park.
Drivable Weekend Escape – Just over 3 hours by car makes for an easy NYC road trip.
Top Things to Do in Mystic with Kids
Museums & Exhibits
Mystic Seaport Museum – Climb aboard historic ships, explore a recreated 19th century coastal village, and see marine exhibits.
Mystic Aquarium – See sharks, seals, penguins, and even beluga whales at this top family aquarium.
Earthplace Nature Center – Hike trails through the woods and gardens of this 60-acre nature center.
Amusement Parks & Activities
Quassy Amusement & Water Park – Ride rollercoasters then cool off at Saturation Station water park.
Olde Mistick Village – Browse boutiques and eateries in this family-friendly recreation of a colonial village.
Foxwoods Resort Casino – Try your luck at the slots, catch a show, or play a round of mini golf at this nearby mega casino.
Where to Stay in Mystic with Kids
Read Also: TRAVELING WITH DIABETES CHECKLIST
Some top family-friendly hotels in Mystic include:
Hyatt Place Mystic – Suites with mini kitchens plus an indoor pool and free breakfast.
Hilton Garden Inn Mystic – Fun pirate-themed indoor pool and located right next to Olde Mistick Village.
Residence Inn Mystic Groton – Spacious suites with full kitchens and an outdoor pool.
With nautical adventures, seaside charm, and attractions for all ages, Mystic is the quintessential New England family getaway!
Hit the Open Road for Quality Time and New Adventures
Packing up the minivan for a family road trip adventure promises quality bonding time filled with new experiences. The destinations on this list all offer interactive attractions sure to spark kids' curiosity and excitement. From historical reenactments to hands-on museum exhibits, each place brings history and learning to life.
Of course road trips also mean family time away from the distractions of daily life. Sing along to favorite tunes, stop at funky roadside attractions, and laugh together at silly jokes. Enjoy heart-to-heart conversations while admiring different scenery out the window.
After full days of exploring, relax at family-friendly hotels with amenities like pools, games, and kid-approved dining options. Wake up recharged and ready for the next memorable excursion.
Use this list of epic East Coast road trips from NYC as inspiration to start planning your next big family adventure. Pick a destination that aligns with your family's interests and hit the open road! The bonding memories are sure to last long after the trip itself.