Lets Find Out 7 Beautiful New York Islands
With its towering skyscrapers and constant bustle, New York City is often thought of as an exclusively concrete jungle. But scattered throughout the metropolitan area are numerous islands that offer an escape from the urban chaos. From breezy beaches and historic lighthouses to picnic grounds with panoramic city views, New York's islands provide a variety of attractions without needing to leave the city limits.
In a city known for its diversity, it's no surprise that each island has its own unique vibe and charm. Whether you're looking for family-friendly activities or a romantic getaway, there is a New York island that's perfect for your next visit. This list highlights seven of the must-see islands that give you a taste of the city along with relaxation and beautiful scenery.
Starting with the iconic Manhattan, we will journey out to the farthest reaches of Long Island and loop back through lesser-known islands in the boroughs. Each island on this list is accessible in a day trip or weekend getaway from the city. With subway trains, ferries, and bridges connecting these islands to the mainland, it's easy to escape urban life without going too far.
So leave the skyscrapers behind for a day and enjoy an island adventure that shows a different side of New York! From historic landmarks to sandy stretches, we'll explore the can't-miss islands that let you gain new perspective in the city that never sleeps.
1. Manhattan
Manhattan is the most densely populated and famous island in New York City. This 22.7 square mile island is the beating heart of the Big Apple and the center of tourism.
As one of the world's major commercial, financial and cultural centers, Manhattan is often described as the "Capital of the World" for its towering skyscrapers, iconic landmarks, and nonstop energy. It's divided into three main sections – Lower, Midtown, and Upper Manhattan.
Attractions
Manhattan is packed with world-famous attractions:
Lower Manhattan – The Statue of Liberty, Ellis Island, Wall Street, 9/11 Memorial & Museum, Battery Park
Midtown – Times Square, Empire State Building, Rockefeller Center, Broadway shows, 5th Avenue shopping
Upper Manhattan – Central Park, Metropolitan Museum of Art, Columbia University, Apollo Theater, The Cloisters
Read Also: 15 HELPFUL TRAVEL TIPS FOR RUGBY WORLD CUP FRANCE 2023
With its incredible museums, performing arts, nightlife, dining, and endless sights, you could spend months exploring Manhattan alone. Simply walking its streets and neighborhoods is one of the best ways to soak in the buzzing atmosphere.
Getting There
Manhattan is the most central and accessible of all New York's islands. It's connected to the mainland via tunnels and bridges. You can easily get around via subway, bus, taxi, or ferry. Many tourists stick to Manhattan alone, but venturing to the outer islands provides an escape from the constant crowds and cacophony.
2. Long Island
Just east of New York City lies Long Island – a 125 mile long island that stretches out into the Atlantic Ocean. While the western end contains the NYC boroughs of Brooklyn and Queens, the rest of Long Island offers a world away from the urban hustle and bustle. With miles of beaches, bountiful wineries, and historic seaside villages, Long Island has something for everyone.
Why Visit Long Island?
Here are some of the best reasons to plan your next island getaway on Long Island:
Read Also: 12 FALL ADVENTURE TRAVEL TIPS FOR MOMS
Beaches Galore – Long Island has over 100 miles of coastline with dozens of public beaches. Choose from the lively boardwalks of Jones Beach and Long Beach to the seaside seclusion of Montauk beaches.
Wineries & Tastings – There are over 30 wineries scattered throughout the North and South Forks of Long Island. Sip local wines made from grapes grown right on the island.
Seafood Straight from the Source – Get the freshest catch of the day by dining at a Long Island seafood shack. Clams, oysters, lobster rolls – the seafood options are endless!
Small Town Charm – Cute villages like Greenport, Port Jefferson, and Bay Shore have dockside restaurants, shops, and B&Bs that embrace the nautical culture.
Nearby Big City Perks – Long Island is just outside New York City, so you can easily take a day trip into Manhattan then retreat back to the island pace.
Top Attractions on Long Island
Beaches
Jones Beach – A lively beach with a 2 mile boardwalk, mini golf, concerts, and more.
Robert Moses State Park – 5 miles of beaches on the South Shore with picnic areas and hiking trails.
Long Beach – Glamorous vibe with boutique hotels, surf clubs, and a vibrant 2 mile boardwalk.
Wineries
Wolffer Estate Vineyard (Hamptons) – Lavish winery known for rose wines and summer concerts.
Bedell Cellars (North Fork) – Sophisticated winery with elevated tastings and a scenic sculpture garden.
Harbes Vineyard (North Fork) – Family-friendly vineyard with barnyard animals, tastings, and a farm stand.
Historic Sites
Vanderbilt Mansion – Tour the sprawling estate of the wealthy Vanderbilt family set right on the Long Island Sound.
Montauk Point Lighthouse – Climb to the top for sweeping ocean views from New York's oldest lighthouse.
Old Westbury Gardens – Stroll through formal gardens and tour an elegant early 20th century mansion.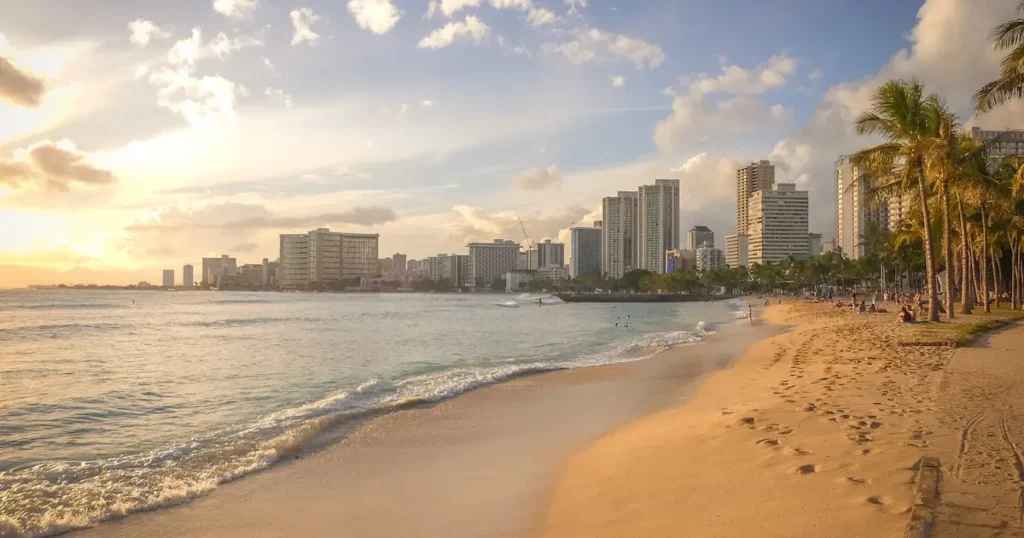 Getting to Long Island
The most straightforward way to Long Island from NYC is driving or taking the Long Island Railroad. The LIRR goes all the way out east to Montauk with stops along the way. Or take your car via highways like the Long Island Expressway and Sunrise Highway. Flying into one of Long Island's airports is another hassle-free option.
With beach trips, winery tours, historical sites, and natural beauty, Long Island offers the best of both worlds – island relaxation with easy access from the big city. Plan your Long Island escape today!
3. Staten Island
Nestled in New York Harbor, Staten Island seems worlds away from the bustle of Manhattan. As one of NYC's five boroughs, Staten Island offers a variety of attractions from cultural sites to natural areas that make it worth the visit.
Why Visit Staten Island?
Though often overlooked by tourists, here are some highlights of Staten Island:
Small Town Feel – With historic downtowns, mom-and-pop shops, and neighborhood eateries, Staten Island has a peaceful, community vibe.
Natural Beauty – Miles of green space with parks, wetlands, and beaches offer plenty of options for outdoor recreation.
Free Ferry Ride – One highlight is taking the free 25 minute Staten Island Ferry for sweeping views of NYC's harbor and skyline.
Cultural Attractions – Museums and historic sites provide insight into NYC history, art, and architecture.
Easy Weekend Escape – Staten Island is an easy trip from Manhattan but feels worlds away from the hustle and bustle.
Top Attractions on Staten Island
Read Also: 25 ROMANTIC THINGS TO DO FOR COUPLES IN NEW ORLEANS
Museums
Nature & Scenery
Snug Harbor Cultural Center – Gorgeous 83-acre campus with botanical gardens, art galleries, and performing arts centers.
Fort Wadsworth – Historic former military fort from the Revolutionary War era, now part of the National Park system.
Staten Island Ferry – Free 25 minute ferry ride across New York Harbor with amazing skyline views.
Food & Entertainment
Enoteca Maria – Charming restaurant where grandmothers from around the world cook family recipes.
Flagship Brewery – Laidback brewery in Tompkinsville with craft beers and a waterside beer garden.
Staten Island Zoo – Fun outing to see monkeys, reptiles, birds and more up close at this charming zoo.
Getting to Staten Island
The most common way to Staten Island is via the free ferry from Lower Manhattan. You can also drive over the Verrazzano-Narrows Bridge. Or take the Staten Island Railway from the NYC subway system. With its small town charm and variety of attractions, Staten Island makes for a great easy weekend escape!
4. Roosevelt Island
Sitting between Manhattan and Queens, Roosevelt Island is a narrow 2-mile long island that feels worlds away from the bustle of New York City. This car-free oasis offers a quiet reprieve with gorgeous city skyline views.
Why Visit Roosevelt Island?
Though many New Yorkers have never explored Roosevelt Island, here are some key reasons to add it to your NYC itinerary:
Easy Island Escape – Just a quick tram ride from Manhattan takes you to the peaceful island retreat.
Iconic City Views – Get postcard-worthy views of the Manhattan skyline and Queensboro Bridge from the island's promenade.
Historic Landmarks – Discover the island's history through abandoned ruins like the Smallpox Hospital and landmark monuments.
Outdoor Recreation – Miles of waterfront parks and trails are perfect for walking, jogging, or biking around the island.
Car-Free Tranquility – With no car traffic, the island has a relaxed vibe with residents walking and mingling in public plazas.
Top Attractions on Roosevelt Island
Landmarks
Recreation
Roosevelt Island Tramway – Iconic aerial tram ride with unbelievable views as you soar over the East River.
Southpoint Park – Green space at the island's southern tip, perfect for picnics with panoramic city vistas.
Lighthouse Park – Quiet park with an 1850s lighthouse, ruins, and stellar sunset views.
Dining & Shopping
The Pepsi-Cola sign – Grab an Instagram-worthy photo in front of this iconic sign with the NYC skyline.
Island restaurants – Low-key eateries serve various cuisines like Mexican, Italian, and American fare.
Motorgate Plaza – The island's main street lined with grocers, coffee shops, delis for grabbing quick bites.
Visiting Roosevelt Island
The most convenient way to Roosevelt Island is taking the Roosevelt Island Tramway from Manhattan. You can also take the F train, but the tram ride itself is a highlight. Give yourself at least 3-4 hours to wander the island. With its serene scenery, landmark monuments, and city views, Roosevelt Island is one of NYC's hidden treasures waiting to be explored!
5. Governors Island
Just a quick ferry ride from Lower Manhattan or Brooklyn lies Governors Island – a tranquil 172-acre island retreat tucked away from the hustle of NYC. With car-free green space, historic sites, and sweeping views of New York Harbor, Governors Island makes for a perfect day trip or weekend getaway.
Why Visit Governors Island?
Though Governors Island has only been open to the public since 2003, it has quickly become a beloved warm weather destination. Here's a look at what it offers:
Read Also: 10 SECRET AIRPORT HACKS 
Peaceful Park Setting – Relax in hammocks, picnic areas, and open lawn spaces with bike and walking paths.
Historic Architecture – See preserved 18th and 19th century military buildings and forts.
Excellent Vistas – Marvel at picture-perfect views of the Statue of Liberty, Brooklyn Bridge, and Manhattan.
Unique Events & Exhibits – Experience rotating public art and cultural events like Jazz Age lawn parties.
Family Fun – With playgrounds, activities, food vendors but no cars, it's an ideal outing for families.
Top Attractions on Governors Island
Historic Sites
Fort Jay – Star-shaped fort from the Revolutionary War that defended New York Harbor. Offers tours.
Castle Williams – Circular sandstone battery that guarded the waters during the War of 1812.
Admirals' Row – Row of 19th century houses built for high ranking naval officers and their families.
Recreation
The Hills – Two human-made hills with sweeping views and slides for enjoying in summer or winter.
Picnic Areas – Relax on blankets and hammocks scattered around the open green spaces and trees.
Bike Rentals – Pedal around the car-free island and coast along the waterfront promenade.
Events & Exhibits
Public Art – Outdoor art installations that change seasonally, like sculpture exhibits.
Jazz Age Lawn Parties – Fun summer events with jazz music, dance lessons, costume contests, and more.
Little Island – New petite island off Governors Island with performance spaces and arts programming.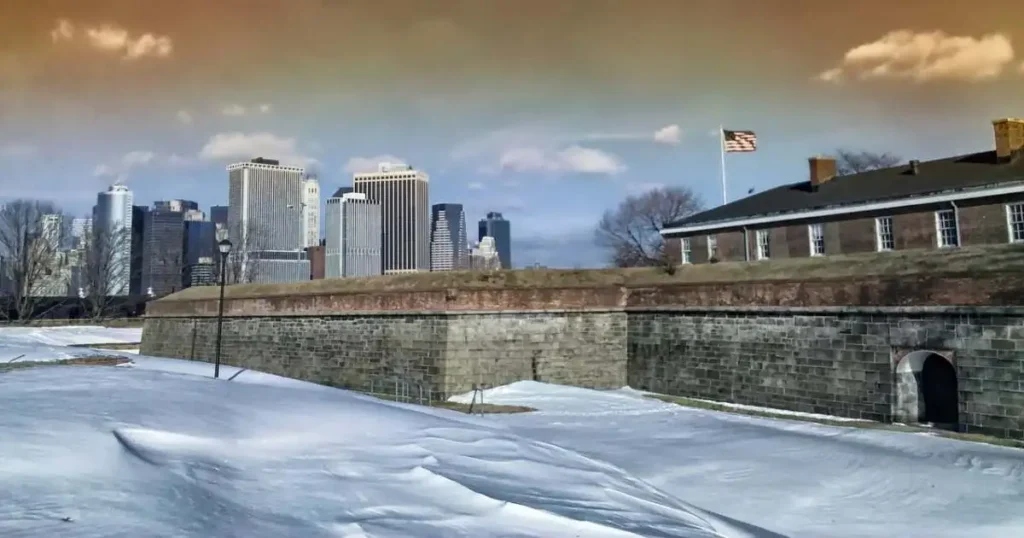 Visiting Governors Island
The island is only open May 1 to late October. Take the ferry from the Battery Maritime Building in Lower Manhattan or Brooklyn Bridge Park's Pier 6. Give yourself at least half a day to explore Governors Island's natural beauty, history, and artsy vibe. With its peaceful setting so close to the city, it truly feels like a hidden gem!
6. Shelter Island
Nestled between the North and South Forks of Long Island lies Shelter Island, a secluded island paradise surrounded by sheltered bays and harbors. With its beautiful beaches, organic farms, and nautical villages, Shelter Island offers the ultimate seaside escape near Hamptons glamour.
Why Visit Shelter Island?
This hidden Long Island gem boasts:
Pristine Beaches – Miles of shoreline with peaceful beaches perfect for swimming, seashell hunting, and beachcombing.
Kayaking & Hiking – Paddle through salt marsh creeks or take woodland trails in Mashomack Preserve.
Relaxed Vibe – Slow down to island time in the laidback villages of Dering Harbor, Shelter Island Heights and more.
Farm Stands & Vineyards – Sample local wine and pick up organic produce from Shelter Island farms.
Proximity to the Hamptons – Easy ferry access lets you enjoy the Hamptons then retreat back to the island.
Top Attractions on Shelter Island
Beaches
Crescent Beach – Curved white sand beach with gentle surf, great for families.
West Neck Beach – Secluded beach near Mashomack Preserve with serene views.
Shell Beach – Tiny beach littered with seashells to collect at low tide.
Nature & Trails
Mashomack Preserve – Hike woodland trails and kayak through salt marshes in this unique ecological preserve.
Sunset Beach – True to its name, this west-facing beach has incredible sunset views.
Shelter Island Heights Bluffs – Walk along dramatic bluffs overlooking a pristine shoreline.
Read Also: 12 IN-DEMAND BUSINESS JOBS THAT INVOLVE TRAVELING 
Towns & Villages
Dering Harbor Village – Upscale village with pastel cottages and yachts bobbing in the bay.
Sylvestor Manor – Historic manor house surrounded by organic farmland open for tours.
The Chequit Inn – Iconic hotel since 1873 with old-fashioned rooms and a restaurant/bar.
Visiting Shelter Island
Reaching Shelter Island requires taking a short ferry ride from Greenport or North Haven. Give yourself at least a couple days to explore the beaches, trails, vineyards, and villages. With its beautiful natural scenery, low-key atmosphere, and proximity to the Hamptons, Shelter Island is the perfect sanctuary to escape the crowds.
7. City Island
Tucked away in the Long Island Sound, City Island is a tiny 1.5 mile long island that's home to a historic seaside village. Just 15 minutes from the Bronx, it feels a world away with its charming nautical atmosphere and tasty seafood eateries.
Why Visit City Island?
This unique NYC island offers:
Classic Seaside Charm – Victorian homes, yacht clubs, and seafood restaurants give it an idyllic, old-fashioned vibe.
Laidback Pace – Wander the quiet, walkable streets and take in the relaxing island tempo.
Seafood Galore – Indulge in lobster rolls, crab cakes, fish tacos, and more waterfront dining options.
Wave to Boaters – Watch boats glide by as you stroll the picturesque marina.
Nearby Pelham Bay Park – Just a bridge away lies NYC's largest park with beaches and nature trails.
Top Attractions on City Island
Scenic Strolls
The marina – Stroll past bobbing boats and gazebos overlooking the marina along City Island Avenue.
Summer cottages – See quaint cottages in nautical pastels with names like "Sea Ya Later" and "Clam Bake."
Belden Point – Walk out to this island tip for panoramic views of the Long Island Sound.
Activities
Fishing excursions – Join a deep sea fishing trip and reel in your own catch of the day!
Boat tours – Cruise through Pelham Bay Park waterways and learn about nature and history.
Biking – Rent a bike and cruise along City Island's flat, scenic streets.
Read Also: 10 BENEFITS OF MOVING ABROAD ALONE
Eats & Drinks
Seafood eateries – From bouillabaisse to crab cakes, all restaurants spotlight fresh seafood.
Ice cream stands – Cool off with homemade ice cream by the waterfront.
Bars & pubs – Relax over drinks at classic pubs filled with regulars and sailors.
Visiting City Island
City Island is a quick drive or subway/bus combo from Manhattan or the Bronx. Give yourself at least half a day to soak in the small town atmosphere. With its seaside vibes just minutes from the big city, City Island offers the perfect city escape!
Island Hop Your Way to Relaxation in NYC
New York City may be known for its bustling streets and towering skyscrapers, but scattered throughout the city are numerous islands that offer a peaceful escape. From Long Island's beaches and vineyards to the car-free tranquility of Governors Island, New York is filled with island getaways waiting to be explored.
Each island has its own unique character and beauty beyond bridge traffic and urban crowds. Kayak through marshes on Shelter Island, get lost in Tibetan art on Staten Island, or enjoy a craft beer on City Island. Spend the day hiking and dining on Roosevelt Island or admiring Beaux Arts mansions on Long Island.
The islands provide plenty of activities from historic sites to sandy shores, but their slower pace is perhaps the biggest draw. Leave the chaotic energy of Manhattan behind and enjoy stunning vistas, walkable villages, and outdoor recreation. Relax as the sound of honking horns and sirens fade away to the lapping waves.
While each island deserves its own leisurely visit, a weekend is enough to get a taste of several and see different sides of New York. With reliable public transportation like ferries and trains, the islands are just a short jaunt away.
As iconic as the Statue of Liberty and Coney Island are, some of New York's best sights require venturing just offshore. Island hop your way to a new perspective on the city and find beachside serenity with an urban backdrop.