Planning to move to Japan? Discover 13 valuable tips to ensure a seamless transition and make your relocation a success.
Are you dreaming of experiencing the unique blend of ancient traditions and modern advancements in Japan? You are at right place.
Moving to Japan can be an exciting and life-changing experience. However, navigating the process of relocation to a new country can be daunting. Don't worry! In this comprehensive guide, we will walk you through the essential steps, provide valuable tips, and share helpful resources to make your move to Japan a smooth and successful journey and If you get stuck or have questions at any point, simply send me a message and I will do my best to help you out.
This 13 Things You Must Consider Before Move To Japan
Researching Japan: Culture, Customs, and Language
Visa and Legal Requirements
Finding Accommodation in Japan
Transportation and Commuting
Employment Opportunities
Healthcare and Insurance
Education and Schools
Banking and Finances
Mobile and Internet Services
Daily Life in Japan: Grocery Shopping, Utilities, and More
Socializing and Making Friends
Exploring Japan: Travel and Sightseeing
Dealing with Culture Shock
Introduction
As one of the most technologically advanced countries in Asia, Japan has always been known for its innovative and unique approach towards tradition. Moving forward, you'll find out why Japan continues to rank highly among the best places to live worldwide. The list of things to love about Japan goes far beyond sushi and sake. Keep scrolling if interested.
1. Researching Japan: Culture, Customs, and Language
When relocating to another nation like move to Japan, it is paramount to educate yourself on the host country's history, traditions, values, social norms, behaviors, and mannerisms to ensure seamless integration and respectful interactions with the locals. Start by exploring books, documentaries, movies, podcasts, articles, and websites about Japanese culture and society to develop a basic understanding. Discover Japanese holidays and festivals celebrating nature's cycles, historical figures, and mythological creatures throughout the year. Learn about honorific speech levels, which express politeness, status differences between speakers, and formality required in communication. Familiarize yourself with Japanese writing systems, such as Kanji characters, Hiragana, Katakana, and Romanji, as well as common sentence structures and verb conjugations. Try to pick up several useful expressions, pleasantries, and small talk topics to engage with people. These efforts will help ease the adjustment period by showing appreciation for the unique environment awaiting you in Japan.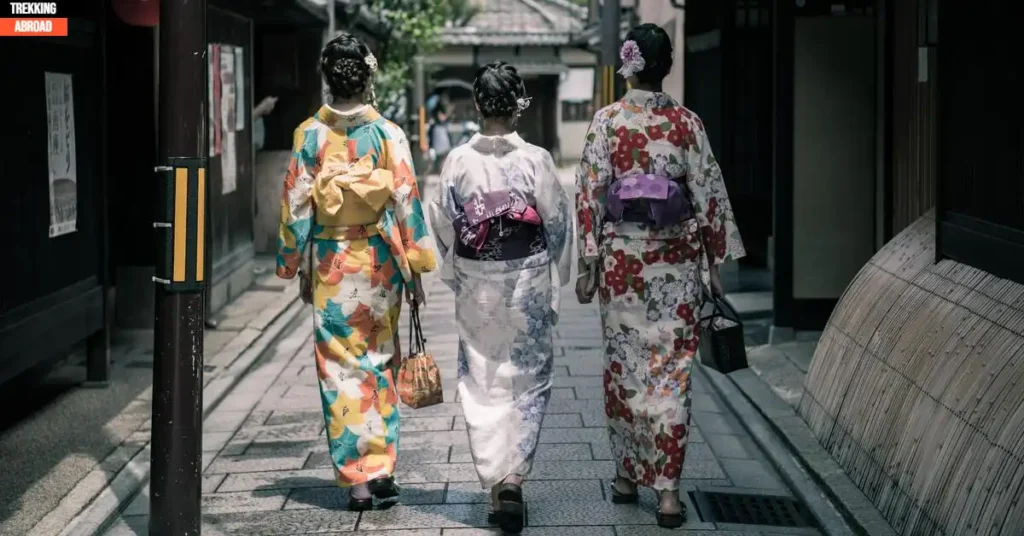 JapanesePod101 (japanesepod101.com) – Offers interactive lessons, podcasts, and other materials tailored towards learning spoken Japanese.
2. Visa and Legal Requirements
The process of obtaining a visa varies depending on your nationality and purpose of visiting Japan. It's important to research which type of visa best fits your situation, such as a tourist, student, or working holiday visa. The application procedure involves gathering documentation, paying fees, and submitting your application at the nearest Japanese Embassy or Consulate. Once you arrive in Japan, it's vital to register your address within seven days, especially if applying for a residence card or obtaining certain services. Always maintain valid documents throughout your stay in Japan.
Ministry of Justice, Government of Japan (@JPNJustice_) – Official website for immigration policies, procedures, and updates for foreign nationals living in Japan. https://www.moj.go.jp/content/000039556.pdf
3. Finding Accommodation in Japan
Accommodation options in Japan range from traditional rooms to modern apartments. You might consider living in temporary housing upon arrival until securing long-term lodging. Common choices include renting an apartment, sharing a house/apartment with roommates, or renting a room via online platforms. Expect higher prices in larger cities, but also expect well-maintained facilities compared to other countries. It would benefit you to understand real estate terminology when searching for places in Japanese. Also, prepare documentation required by landlords, such as income certificates and guarantor consent forms, plus move-in costs. Your new home should meet safety standards and suit your needs.
Tokyo Temporary Housing( @TokyoTemporaryHousing ) – Short-term rental agency for fully furnished flats, ideal for those requiring flexible arrangements before transitioning to long-term housing. Make a booking through www.tokyo-temp-housing.com .
4. Transportation & Commuting
From buses to trains to bicycles, learn how to get around the city using different modes of transportation. Find out how to purchase tickets, identify routes, and plan your trips accordingly. This topic covers commuting to work, traveling between cities, and navigating the transportation system.
Google Maps – The quintessential navigation tool now incorporates real-time bike sharing availability and provides public transit guidance, bike routes, and walking directions for all major cities. Access it via maps.google.com.
5. Employment Opportunities
Learn about job hunting resources, qualifications, language barriers, contract renewals, and salary negotiations. Understand what jobs are available based on skill sets and experience level. Get introduced to the concept of 'shacho kourei,' or "company man," and learn about typical company policies and expectations. Additionally, find out about working hours and regulations related to hiring foreigners.
Upwork (@Upwork) – An online platform connecting freelancers worldwide with businesses offering remote gigs such as writing, graphic design, programming, virtual assistance, etc. Visit Upwork now:https://www.upwork.com/howitworks
6. Healthcare & Insurance
Discover how Japanese medical care works and how much it costs. Study common phrases associated with hospitals and clinics, patient responsibilities, doctor appointments, prescriptions, and medical history charts. Identify ways to set up international insurance plans that cover emergencies. Furthermore, explore insurance plans typically offered by Japanese employers and how to enroll in them.
Ministry of Health, Labour and Welfare (@JPN_Hlw) – Official government website introducing National Health Insurance Scheme (Kokumin Kenpo Sekai), the Medical Care System for Persons with Disabilities (Taiwa Kango Hoken Seido), and other relevant programs. This source should become your comprehensive reference point throughout your stay in Japan, answering almost every question you may have relating to public medical services. Explore today: https://www.mhlw.go.jp/english/policy/health-welfare/index.html. For questions specific to international residents or further explanation of terms, please visit the website's official English version: http://www.mhlw.gov.
7. Education & Schools
Find out about schooling options for children and adult students alike. Research curricula, class sizes, school year schedules, and entrance exam processes. Identify extracurricular activities and after-school clubs. Moreover, uncover the differences between public schools, private academies (juku), boarding schools, and expat schools.
Visit the Japan Info homepage: https://japaninfo.moe.media.mobile.fc2.com/en/
8. Banking and Finances
Deposit insurance schemes protect personal savings accounts up to specified limits per person; however, it doesn't extend to stock investments. Consider opening a bank account once settled in Japan to manage finances efficiently. Major banks offer multilingual services to assist non-Japanese speakers, including ATMs supporting overseas cards. Transferring money back home incurs nominal charges with direct transfer being faster than indirect methods. Keep track of the interest rates and regulations governing loans, credit cards, mortgages, and various products offered by lenders. Choose banking packages wisely while setting up automatic transfers for bills and regular expenses. Investment opportunities like NISA tax-free accounts can improve returns on funds. Avoid excess spending on unnecessary items, particularly those difficult to recoup later. Pay attention to your net worth progression during the entire stay, aiming for saving more and incurring less debt unless absolutely necessary.
Understanding Japan's Banking Sector https://www.financialservicescommission.gov.
9. Mobile and Internet Services
Mobile and internet services are critical components to maintaining communication and information flow. However, finding affordable cell phone plans while abroad can be challenging. Thankfully, some Japanese carriers provide packages specifically tailored towards tourists and visitors. Some of the most popular ones include SoftBank, Docomo, and Au. Meanwhile, prepaid data SIM cards are also available for temporary stays. These come with generous amounts of data, voice minutes, and text messages. For those requiring longer periods of time with reliable connectivity, a two-year contract might be necessary. Look into international roaming charges if you wish to retain your current carrier and number. Alternatively, bring an unlocked handset and buy a Japanese SIM card upon arrival. Make sure your phone's hardware is compatible with local frequencies. Lastly, purchasing a pocket WiFi device from carriers offers more flexibility than a traditional home broadband subscription.
Ministry of Communications and Computerization (MIC). The Japanese government provides an official page summarizing communication and technology services in Japan, focusing on MVNOs (Mobile Virtual Network Operators), fibre optics, NTT Broadband Platform, etc. You can find additional useful data and statistics from their reports such as those found here.
10. Daily Life in Japan : Grocery Shopping, Utilities, and More
For daily life needs, Japan has very convenient transportation networks and accessible services, ranging from retail shops to various specialty markets. There are also plenty of restaurants, cafes, pharmacies, and banks easily reachable within walking distance. In addition, there are countless online and digital platforms providing delivery services as well, so no matter where you live, getting what you need is always possible. To get started, try using Google Maps for basic navigation around towns and cities. It's entirely possible to locate everything you need without speaking Japanese fluently. As far as utilities go, they are straightforward to setup, but make sure you check and understand usage fees since they change depending on location and situation. And finally, for grocery shopping, large department store basements host quality food selections at slightly higher prices compared to regular supermarkets. Small neighborhood convenience stores usually offer less varied produce but remain perfect for pickups. Remember, there will still be lots to discover and experiment with once you begin your new life here in Japan!
An English website for ordering fresh produce and other items online, which can be delivered directly to your doorstep. Explore Amazon Fresh and its unique features to shop with ease. https://fresh.amazon.co.jp/
11. Socializing and Making Friends
Most individuals start off being nervous about socializing and meeting strangers, particularly when trying to make friends. However, it is essential to understand that there is no reason why relocating abroad should stop anyone from expanding their circles or finding companionship. Many expatriates build deep and meaningful relationships simply by putting themselves out there and attempting new things. You may want to join clubs focused on pursuing specific hobbies, or attend language exchanges/meeting people via internet communities. Keep in mind joining these kinds of associations will improve not only personal development, but provide opportunities to connect and create long lasting connections. Expatriate and traveler associations also commonly organize several events throughout the year aimed at bringing together global minds, building new experiences, and strengthening your newly formed network. Socializing comes naturally when surrounded by likeminded individuals actively looking to spend time together outside their normal routines.
Tandem offers language exchange opportunities with native speakers who are learning the same language(s) as you. Joining communities like "Japan" can help connect with potential partners or expand social circles. Sign up at https://www.tandem.net/
12. Exploring Japan: Travel and Sightseeing
Relocating to Japan opens endless possibilities for exploration, both within the city limits and beyond. With a robust public transportation infrastructure connecting most destinations and the abundance of rental car agencies, planning a road trip has never been more accessible. Many expats choose to immerse themselves in all that Japan has to offer; cherry blossom viewing parties (Hanami), festivals such as Norio fireworks, exploring ancient temples, castles, shrines and tombs, traditional gardens, scenic train rides through picturesque countryside, taking boat cruises to enjoy seasonal changes of natural settings on water or mountains, ski resort winter wonderlands, relaxing natural springs (Onsen) in mountain lodges (Ryokan), enjoying diverse culinary scene throughout each district, participating in spiritual practices in various religious sites and attending sporting events with enthusiastic fans cheering on popular teams – the list truly goes on forever. These unique experiences allow for ample opportunity to uncover aspects of Japanese heritage rarely discussed or shown to tourists. All these activities encourage open discussions and evenings spent socializing and forming new bonds.
 High-Speed Rail System: Shinkansen
13. Dealing with Culture Shock
When moving to another country, culture shock can be an expected but unpredictable challenge. It's difficult to fully prepare yourself for everything, but with patience and curiosity, dealing with cultural differences becomes easier over time. Some find solace in speaking with those who have faced similar issues and seek to find comforting advice. Seeking out resources tailored for navigating life abroad brings clarification for anything that remains unclear in our newfound routine. This can vary greatly depending upon the individual and circumstances surrounding them – so don't hesitate reaching out to others who can empathize or relate on this subject matter. Reaching out and talking might just resolve worries you had but were afraid to confront alone.
InterNations: The Expats' Social Network https://www.internations.org/
Wrap it up
The conclusion I reached after this experience was that my fears of leaving home had created far too much concern without proper perspective. Although it did take some time, I grew comfortable with this new lifestyle. In fact, now I prefer where I currently live despite how tough the process could appear during early stages. And although certain problems may return again later down the line, they do tend to disappear once addressed and properly analyzed since it allows me to move forward with greater confidence. Don't let fear or uncertainty hold back progress or prevent one from seizing opportunities – they aren't worth missing.
FAQs
Cost of Living in Japan
Tokyo ranks high among the most expensive cities globally. Prices for food, gasoline, clothes, etc. can exceed US prices. Housing, transportation, health insurance premiums, and entertainment also have varying costs.
Property Ownership by Foreign Nationals
Non-residents can legally acquire real estate in Japan following the same procedures as locals but requiring more documentation related to their status and finances. Legal guidance is recommended for translating contracts and ensuring fair transactions. Maintaining accurate records reduces tax burdens during resale.
Business Ownership by Non-Residents/Foreign Companies
Corporate structures like representative offices or branch offices require licensed attorneys to handle legal procedures. Starting companies face additional challenges with registration and reporting obligations mandated by local entities. Advice from knowledgeable lawyers helps simplify the incorporation process.
Tax Resident Definition & Exemptions for High Earners
Individual income tax treaties exempt high earners from double-taxation if residents meet specific criteria such as being physically present in Japan less than 5% annually. Consulting experienced specialist advisors ensures optimal management plans and minimized fiscal responsibilities.
Retirement Plan Availability & Rules
Pension systems vary based on employer type or self-employment. Payments for private pensions follow particular qualifications for participation based on employment duration and types of benefit packages offered. Contribution caps increase yearly, while voluntary schemes match the highest thresholds available. Financial advisors familiar with industry trends provide useful recommendations to optimize retirement savings.