Are you planning on traveling to Corfu soon? If so, then you should definitely read this article!
In today's world, safety is becoming increasingly important while traveling. With all the recent events happening around the globe, it has become essential to take precautions before embarking on any journey.
This article provides valuable insights into how you can stay safe during your trip to Corfu. From packing essentials to knowing what to expect once you arrive at your destination, this guide covers everything you need to know before setting off on your adventure.
So sit back, relax, and enjoy reading this comprehensive guide to ensuring a safe and memorable experience while traveling to Corfu.
Happy exploring!
When to Visit Corfu
Timing your trip to Corfu depends on several factors such as personal preference, budget constraints, and desired activities. Generally speaking, peak season runs from mid-May to late September, offering warm temperatures perfect for swimming and enjoying beach life. However, prices tend to skyrocket during this period, making it unaffordable for some travelers. For those who don't mind slightly colder weather, spring (March to May) and fall (September to November) offer milder temperatures and lower costs without sacrificing too much comfort. Winter visits have their own appeal for winter sports enthusiasts seeking snowy mountainside adventures. Ultimately, choose the timeframe that suits your interests and wallet best.
Essential Travel Tips for Corfu
When planning a trip to Corfu, there are certain essentials that every traveler should know. From health requirements to weather considerations, here are some helpful tips to ensure an enjoyable experience on the island:
Passports and Visas: Make sure your passport is valid for at least six months beyond your planned departure date. Additionally, check if your nationality requires a visa to enter Greece. It's best to apply early to avoid any last-minute complications.

Health Requirements: Confirm if any vaccinations or medications are required based on your individual circumstances. Be prepared by bringing copies of your medical records in case of emergencies.

Read Also: TOP 5 SOLO TRAVEL TIPS
Clothing and Weather: Research the climate ahead of time and pack suitable attire, including comfortable walking shoes, sunscreen, and rainwear. Also, don't forget items like hats, sunglasses, and insect repellent.

Language Barriers: While many Greeks speak English fluently, learning basic Greek phrases will aid communication with locals.

Safety Precautions: Stay alert while navigating crowded areas and avoid carrying large amounts of cash. Keep valuables secure in hotel safes and observe local laws and customs respectfully.

Technology and Electrical Outlets: Greece utilizes Type F plugs with 230 volts AC/50 Hertz electricity. Pack a plug adapter if needed for charging electronic devices like smartphones and laptops.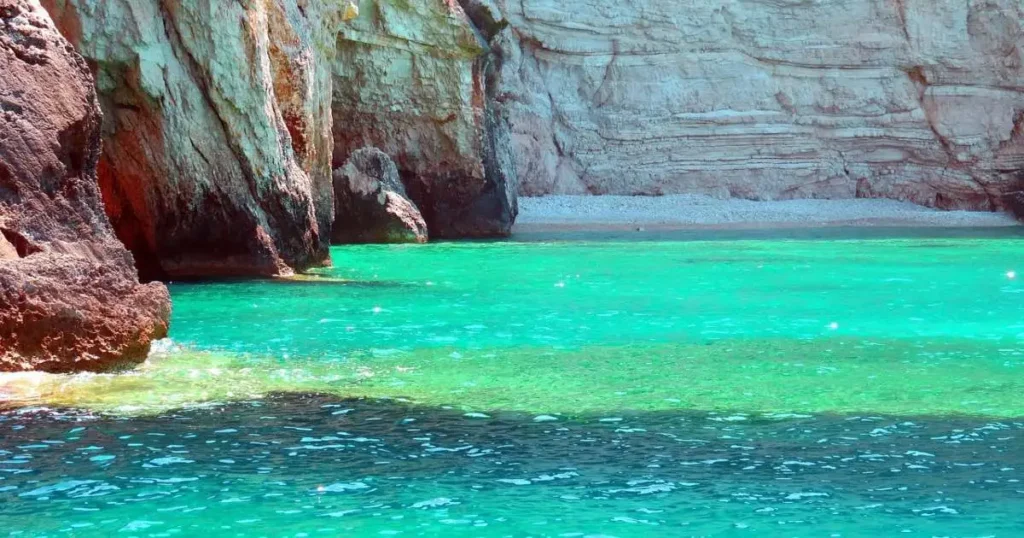 Getting Around Corfu
Once you arrive on the island, getting around Corfu can seem daunting without understanding the available transportation options. Let us take a closer look at what modes of transportation are available:
Ferries: Regular ferry services connect Corfu with mainland ports like Igoumenitsa and Saranda (Albania), but schedules vary according to seasonal demands. Plan your trips accordingly.
Buses: KTEL operates intercity buses connecting various points across Corfu Island. Frequencies increase during peak seasons, allowing easy access to popular destinations like Agios Gordios Beach, Paleokastritsa Monastery, and Sidari Beach Resort.
Rental cars, motorbikes, scooters, and taxis: Availability of rental cars, motorcycle rentals, and scooters increases during high season. Taxi service is also readily available throughout the island.
Must-Visit Places in Corfu
Corfu offers numerous exciting places to visit and explore. Discover its rich history, stunning landscapes, and cultural heritage through these must-visit spots:
Old Town of Corfu: A UNESCO World Heritage Site featuring Venetian architecture, charming streets, and historic landmarks such as the Palace of Saints Michael and George and the Church of Saint Spyridon.

Achilleion Palace: Built in honor of the mythical hero Achilles, this palace showcases opulent rooms decorated with frescos, mosaics, and statues representing Greek mythology.

Pontikonisssa Monastery: Perched on a hill overlooking the sea, this Byzantine monastery dates back to the 9th century AD and houses priceless religious artifacts.

Kanoni Peninsula: Offering breathtaking views of the Mouse Island and the Albanian coastline, Kanoni features a picturesque church dedicated to Pantokrator and a peaceful park ideal for picnics.

Read Also: 10 HIDDEN GEMS: YOU NEED TO EXPLORE NOW
Angelokastro: An imposing medieval castle perched on a mountain overlooking the east side of the island, offering panoramic views and insights into Corfiote history.

Palaiokastrisa Castle: Located on a rocky outcrop above the sea, this ruined fortress boasts dramatic scenery and sweeping views of the west coast.

Issos Beach: A secluded sandy beach surrounded by lush greenery and crystal-clear waters perfect for swimming and relaxation.

Antivouni Forest: A verdant oasis cradling rare flora and fauna species, ideal for nature walks and birdwatching.

Dassia Beach: A long pebble beach with shallow waters ideal for families and water sports enthusiasts.

Corfu Museum of Ceramic Art: Displaying a unique collection of ceramic art pieces from different historical periods and cultures.
These are just a few examples of the countless fascinating sites worth discovering in Corfu. Each place holds a story waiting to be uncovered and appreciated.
The Gastronomic Experience
In Corfu, you'll discover a unique fusion of Italian, French, Turkish, and English influences in its culinary scene. Indulge in traditional recipes passed down through generations and savor the freshness of locally sourced ingredients. Here are some must-try dishes and recommended restaurants:
Sofrito: This hearty stew made with slow-cooked pork, red wine, garlic, and spices is a classic Corfiot specialty. Try it at Taverna Karamanatsi in Agios Gordios village.

Pastitsada: Similar to lasagna, this pasta dish is layered with meat sauce, creamy béchamel sauce, and grated cheese. Taste it at Taverna Nikolas in Peroulades village.

Bourdeto: Fishermen's catch cooked in a tomato broth with onions, garlic, and parsley oil. Sample it at To Kafésio in Corfu Town.

Fritters (Fritto): Fried seafood or vegetables coated in a light batter and served piping hot. Enjoy them at To Sikolo in Agios Ioannis Perianda.

Almond Cake: Made with ground almonds, sugar syrup, and lemon zest, this sweet treat is perfect for dessert. Pick it up at Mela Bakery in Corfu Town.
Read Also: 5 ENCHANTING PLACES TO VISIT IN THE USA DURING NOVEMBER
Beach Activities
Corfu's diverse beaches cater to all interests and levels of activity. From relaxation to adrenaline-fueled fun, here are some popular beach activities:
Water Sports: Rent equipment or take lessons in water sports like windsurfing, kitesurfing, stand-up paddleboarding, and jet skiing at various locations around the island.

Scuba Diving & Snorkeling: Explore underwater worlds teeming with marine life or simply float along the surface while taking in the vibrant colors of the sea. Check out diving centers like Corfu Dive Center in Sidari.

Jet Ski Safari: Take a guided tour across the northern coastline, stopping off at secluded coves and hidden beaches accessible only by boat or Jet Ski. Contact companies like Action Adventures in Roda Beach.

Paragliding: Soar above the cliffs and beaches of southern Corfu with experienced pilots offering tandem flights or solo courses. Find more information at SkyDreams Paragliding School in Issos.
Beach Volleyball: Set up nets on many of the larger beaches like Agios Gordios or Chalikounas and challenge friends or fellow travelers to friendly matches.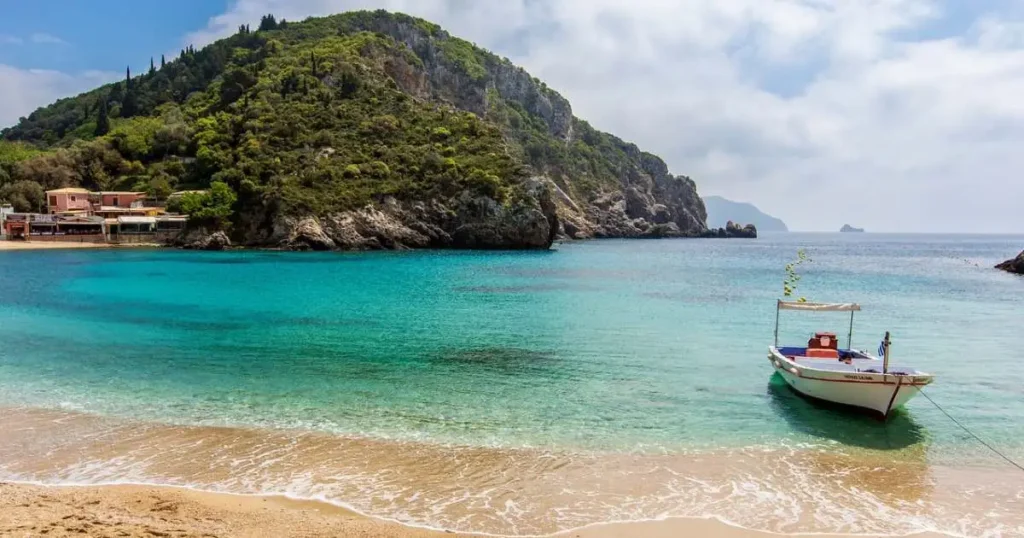 Exploring Corfu's Nature
Nature lovers can indulge themselves in Corfu's lush greenery and rugged terrain. With a plethora of well-marked hiking trails crisscrossing the entire island, it's easy to get lost in the wild without getting lost literally.
Some of the must-visit spots include the Mount Pantokrator, which stands tall as the highest peak in Corfu (906 meters), and the Achillion Palace, perched high above the sea level. Both offer breathtaking views of the surrounding area and the chance to spot rare bird species such as the golden eagle or the Egyptian vulture. For those willing to venture further afield, the Butterfly Reserve in the village of Paramonas is home to dozens of butterfly species found nowhere else in Europe.
Immersive Cultural Experiences
The cultural scene in Corfu is nothing short of mesmerizing. Visitors can join locals celebrating their religious and secular events throughout the year.
Easter week is particularly special when thousands flock to the churches to witness the traditional processions of the Epitafio, a flower-bedecked iconostasis depicting Christ's tomb.
Another major event is the three-day Panaghia festival held every August, honoring Virgin Mary with music, dance, and feasting. Those eager to learn more about the island's past can head straight to the Archaeological Museum of Corfu located inside the Old Fortress. Here they can admire ancient artifacts unearthed across the region since prehistoric times until medieval periods.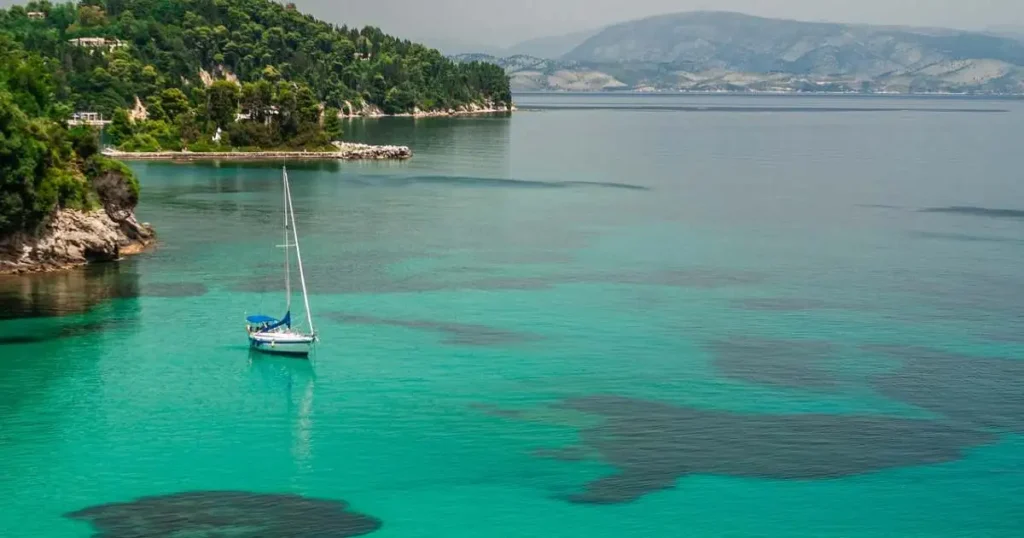 Wrap it up
In this article, we will provide essential information about when to visit Corfu, travel tips, getting around the island, and some top attractions to explore during your stay.
Essential Travel Tips for Corfu Paragliding: Soar above the cliffs and beaches of southern Corfu with experienced pilots offering tandem flights or solo courses.
FAQs
What is the currency used in Corfu?
The official currency used in Corfu is the Euro (€).
Is English widely spoken in Corfu?
Yes, many locals speak English fluently due to the island's long history of foreign occupation and tourism industry. However, learning a few key phrases in Greek never hurts!
Are there any specific vaccinations required for entry into Corfu?
No, there are no mandatory vaccinations required for entry into Corfu. However, visitors are encouraged to consult their healthcare provider for recommended immunizations based on individual needs.
More From Trekking Abroad