The idyllic white sand beaches. The vibrant coral reefs teeming with marine life. The dramatic cliffs and jungle-shrouded volcanoes. Traveling to beautiful natural places allows us to disconnect from daily life and reconnect with nature. But the irony is that travel itself can damage those very environments we long to explore. Transportation emissions, plastic waste, and rapid development driven by tourism can all take a heavy toll.
That's why choosing eco-friendly, sustainable accommodations is one of the most meaningful ways travelers can reduce their environmental impact. By staying at green hotels, nature resorts, and eco-lodges, we can help counterbalance the footprint of getting there. Plus, sustainable lodging provides the chance to immerse in nature without sacrificing comfort. From glamping under the stars to relaxing in an overwater bungalow run on solar power, green travel options abound.
In this guide, we'll shine a light on the different types of sustainable accommodations available today. We'll look at the benefits for travelers, local communities and the planet. And we'll equip you with tips for identifying truly eco-friendly lodging so you can make the most sustainable choice on your next adventure abroad.
Let's get started!
Types of Sustainable Accommodations
When it comes to eco-friendly lodging, you have options that fit just about any travel style. From luxurious green resorts to rustic eco-ranches, there are sustainable stays suited for beach vacations, jungle treks, mountain escapes, and everything in between. Let's explore some of the most popular types of sustainable accommodations available today.
Eco-Hotels and Green Resorts
For travelers who enjoy modern amenities and luxury services, there are many eco-friendly hotels and resorts to choose from. These lodgings incorporate green building design, energy-efficient infrastructure, and sustainable operations and practices.
Some characteristics of eco-hotels and green resorts include:
Sustainable architecture: Designed for optimal energy and water efficiency. Often makes use of local, renewable construction materials.
Eco-certifications: Has obtained green certifications such as LEED, Green Globe, Green Key Eco-Rating, etc.
Renewable energy: Powers facilities through solar panels, geo-thermal, wind turbines, etc.
Water conservation: Low-flow fixtures, rainwater harvesting, graywater recycling.
Waste reduction: Comprehensive recycling and composting programs. Refillable bottles instead of plastic.
Sustainable food: Sources food locally and organically. May have onsite gardens.
Natural amenities: Easy access to nature through trails, guided activities, education.
Some popular examples of eco-certified green hotels and resorts include:
1 Hotel Brooklyn Bridge (New York City): Luxury eco-hotel with river views and a vibrant, nature-inspired design. Rooftop bar features locally-sourced cuisine.
Habitat Suites (Austin, TX): All-suite green hotel near Lady Bird Lake. Sustainable practices include solar power, rainwater collection and regional materials.
Singita Kwitonda Lodge (Rwanda): Luxurious, LEED-certified lodge set within Volcanoes National Park. Part of a multi-award winning eco-resort.
Eco-Lodges and Nature Resorts
If you really want to immerse in nature, eco-lodges and conservation-based nature resorts are a fantastic sustainable option. These wilderness escapes are purpose-built for eco-tourism.
Characteristics of eco-lodges include:
Remote, pristine natural settings like the rainforest or savanna
Designed to blend into the landscape with minimal environmental impact
Focus on nature experiences, education programs, and cultural immersion
Partnerships with conservation organizations
Community engagement and support for local populations
Read Also: ECO-FRIENDLY TRAVEL GUIDE: 20 TIPS FOR SUSTAINABILITY
Here are some top eco-lodge examples:
Inkaterra Reserva Amazónica (Peru): This award-winning rainforest eco-lodge offers excursions into the biodiverse Amazon jungle.
Three Camel Lodge (Mongolia): Stay in luxury yurts in the Gobi Desert. Proceeds support conservation and community projects.
Grootberg Lodge (Namibia): Run by the local community, this nature lodge overlooks the stunning Etendeka Plateau.
Eco-lodges allow travelers to visit fragile environments without doing harm. They also ensure local people reap the benefits of tourism. By staying at eco-certified nature escapes, you can travel sustainably into the heart of our planet's wildest places.
What Makes an Accommodation Sustainable?
With "eco-friendly" and "green" used widely in travel marketing these days, it can be tricky to identify which lodging options are truly sustainable. When researching and choosing accommodations, look for these hallmarks of an environmentally-conscious property:
Sustainable Design and Construction
An eco-friendly building uses green architecture and materials to minimize environmental impact. Look for:
Energy efficient HVAC, appliances, lighting
Renewable construction materials
Passive solar design for heating/cooling
Natural ventilation and ample daylight
Renewable Energy
Replacing fossil fuels with renewables like solar and wind reduces a lodge's carbon footprint. Consider:
Solar panels for electricity or hot water
Geothermal heating/cooling systems
Hydropower, if located near running water
Biofuels from waste oil or biomass
Water Conservation
With water scarcity a rising concern worldwide, sustainable lodging implements measures like:
Low-flow plumbing fixtures
Rainwater harvesting systems
Greywater recycling infrastructure
Saltwater usage for toilets, laundry at coastal properties
Waste Reduction and Recycling
Eco-lodges mitigate their garbage output by:
Comprehensive recycling and composting programs
Eliminating single-use plastics
Offering refillable toiletry dispensers
Using biodegradable or reusable dining wares
Sustainable Food and Supplies
Read Also: ADVENTURE TRAVEL FOR BEGINNERS
Green lodging sources food, beverages, and other supplies sustainably:
Organic gardens for fruits, vegetables, and herbs
Farm-to-table meals featuring local ingredients
Purchasing fair trade goods
Providing water filters to replace bottled water
Environmental Education
Education is key for travelers to appreciate sustainability efforts. Look for:
Nature guides providing education
Interpretive displays on ecology, culture, green technology
Community visits and volunteer opportunities
Eco-Certifications
Trustworthy green lodging certification programs to look for include:
Green Key Global
LEED (Leadership in Energy and Environmental Design)
GSTC (Global Sustainable Tourism Council)
By supporting accommodations that make environmental stewardship a priority, travelers can rest assured their lodging choices match their green values.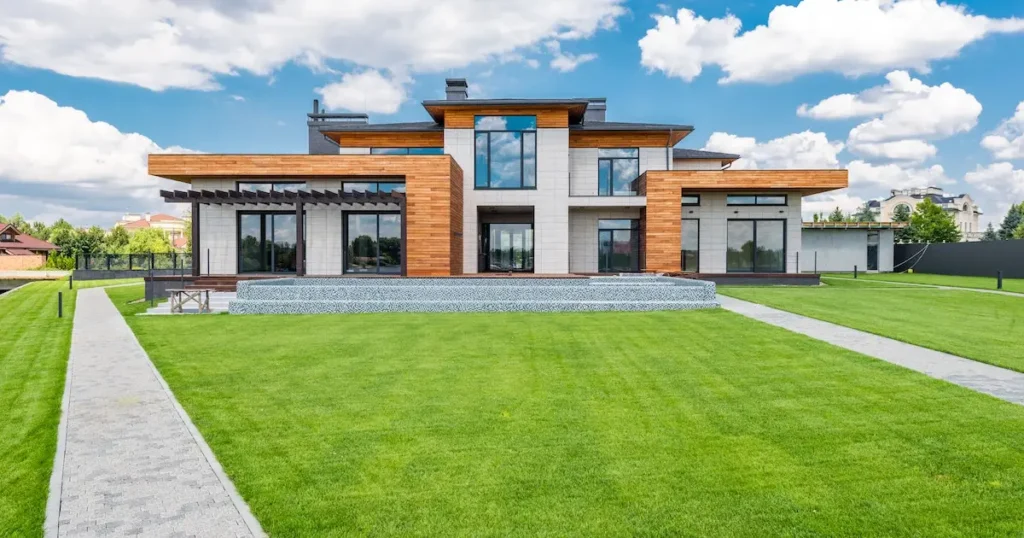 Benefits of Choosing Sustainable Lodging
Booking a sustainable hotel, eco-lodge, or green resort has advantages that go beyond minimizing your travel footprint. Here's a look at the key benefits for travelers, local communities, and the planet:
Benefits for Travelers
Choosing an eco-conscious accommodation enhances your trip in these ways:
Closer nature connection – Immerse in remote environments and access outdoor activities.
Healthier spaces – Breathe cleaner air and reduce exposure to toxins.
Eco education – Learn about sustainability from guides and interpretive displays.
Quality and comfort – Green properties emphasize design, services, and amenities.
Peace of mind – Know your lodging choice aligns with eco values.
Benefits for Local Communities
Read Also: 7 EPIC FAMILY ROAD TRIPS FROM NEW YORK CITY
Sustainable lodging positively impacts nearby populations:
Economic opportunities – Jobs for local residents and partnerships with vendors.
Infrastructure investment – Owners improve access to water, electricity, sanitation.
Preserving heritage – Traditional architecture and customs are celebrated.
Supporting stewardship – Locals gain skills and incentives to protect nature.
Benefits for the Planet
Eco-lodging protects the environment in key ways:
Less pollution – Renewables replace fossil fuel dependence and emissions.
Resource efficiency – Water, energy and materials are conserved.
Nature protection – Revenue funds conservation and habitat research.
Climate change mitigation – Reduced carbon footprint fights global warming.
Raising awareness – Guests adopt sustainability practices experienced on-site.
Choosing sustainable accommodations while traveling allows us to walk lighter on the planet. By supporting eco-lodges' environmental efforts, we can help build a greener tourism industry.
What to Look for in a Sustainable Accommodation
With greenwashing making it hard to distinguish truly eco-friendly lodging, it helps to know what details and features to look for. Here are some telling signs a hotel, lodge or resort prioritizes sustainability:
Location in nature – Situated on/near protected parks or preserves. Access to hiking, wildlife and outdoor recreation.
Eco-certifications – Listed certifications like GSTC, Green Key, LEED, ECOTEL, etc.
Sustainability mission – Website and materials emphasize environmental commitments.
Renewable energy – Solar panels, wind turbines, geothermal heating/cooling.
Water conservation – Drought-resistant landscaping. Low-flow plumbing fixtures.
Waste reduction – Comprehensive recycling/composting. Refillable dispensers instead of small plastics.
Sustainable food – Menus focus on locally-sourced, organic cuisine. On-site gardens.
Natural design – Architecture uses local, renewable building materials. Passive heating/cooling.
Educational offerings – Nature tours, sustainability exhibits, community visits.
Reviews highlight "green" – Past guests mention eco-friendly features in reviews.
Green amenities – Provides bikes, reusable water bottles, waste-sorting bins.
Vetting an accommodation on these points can help guarantee your stay matches both your style and sustainability preferences. Protecting the planet starts with choosing eco-conscious lodging.
Questions to Ask Before Booking a Sustainable Accommodation
Before hitting "book" on a green getaway, do your due diligence by asking targeted sustainability questions. This helps cut through vague eco-claims and understand how lodging choices really walk the walk. Questions to consider asking include:
Read Also: 7 BEAUTIFUL NEW YORK ISLANDS TO ESCAPE THE CONCRETE JUNGLE
What sustainability practices or initiatives do you have in place? Can you provide details on those?
How were facilities designed and constructed to be eco-friendly? What green building techniques were used?
How do you conserve energy and water on-site? Do you use any renewable energy sources?
Do you serve local, organic, or sustainably-sourced foods? Do you have an on-site garden?
What waste reduction, recycling, and composting measures do you have? Do you minimize single-use plastics?
What kind of environmental education, nature tours, or community visits do you offer guests?
Are there opportunities for guests to participate in sustainability efforts like beach cleanups?
Do you partner with any environmental organizations? Are proceeds used to support conservation causes?
Do you have any sustainability certifications such as LEED, Green Key, or ECOTEL?
Asking detailed questions shows you take green credentials seriously. Reputable eco-accommodations will happily share how they operate sustainably both on-site and in the community. Use their answers to make an informed decision.
Tips for an Eco-Friendly Stay
Booking a green hotel or eco-lodge is a great start, but your sustainability efforts don't stop there. Here are some tips to ensure an environmentally-friendly stay from check-in to checkout:
Read Also: 10 SECRET AIRPORT HACKS REVEALED BY FREQUENT FLYERS
Turn off lights, AC, and heat when not in your room to conserve energy.
Reuse towels and linens rather than having them washed daily.
Use provided reusable water bottles and mugs instead of single-use plastics.
Opt for vegetarian or locally-sourced menu items to reduce your food imprint.
Use stairs instead of elevators whenever possible.
Properly sort your waste and recyclables based on hotel guidelines.
Bring your own eco-friendly toiletries and travel gear instead of using plastic amenity kits.
Unplug devices and electronics when not in use to avoid phantom energy drainage.
Learn about on-site sustainability features by taking a tour or reading informational signage.
Participate in green activities offered like hiking, biking, garden tours, beach cleanups, etc.
Purchase carbon offsets to counterbalance the emissions from your travel to and from the destination.
By following green practices during your stay, you magnify the positive impact of choosing eco-conscious lodging. Together we can build a more sustainable travel experience.
The Path to Sustainable Travel Starts With Green Lodging
As travelers, we seek out new places and experiences. But how can we fulfill our wanderlust without harming the very environments and communities we travel to admire? The answer lies in choosing sustainable accommodations.
Eco-lodgings, green resorts, and environmentally conscious hotels allow us to tread lightly while exploring the planet. Whether we crave the comforts of a luxurious sustainable hotel or an off-the-grid escape in nature, green lodging options abound. By staying in an eco-certified accommodation, we promote energy and water conservation, waste reduction, natural area preservation, and social responsibility.
Beyond minimizing our environmental impact, sustainable properties let us immerse in nature, learn about ecological stewardship, and support local communities. Plus, they exemplify how the travel industry can operate in harmony with this fragile planet we call home.
As travelers increasingly seek meaningful experiences over material consumption, the demand for eco-friendly lodging rises too. We vote with our dollars, so let's choose accommodations that align with green values. When booking your next adventure, look for sustainability certifications, credentials, and practices. Seek out lodges with a purpose beyond profits, those that give back to the planet and its people. Not only will this allow you to rest easy on your travels, but you'll inspire others to tread lightly too.